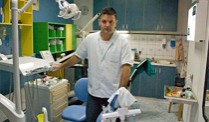 Kontakt
[contact-form-7 id="9″]
Informacije
Balkanska 48
11000 Stari grad
Tel: 011/2487-164
Mob: 064/1108-327
Stomatološka ordinacija Eurodent

Iskoristite naše mogućnosti!

Stomatološka ordinacija Eurodent vam omogućava da mnogo lakše i odlučnije brinete o zdravlju vaših zuba,
a samim tim i zdravlju uopšte
Use our possibilities!
Dental office Eurodent enables you to take care of your dental health easier and more decisive
Svojim višegodišnjim ugledom, savremenom opremom i sertifikovanom stručnošću, Eurodent Vam garantuje vrhunski kvalitet svojih usluga.
With the zears of reputation, modern equipment and sertificated skills, Eurodent guarantees you top quality of its services.
Oralna hirurgija / Oral surgery
Impantologija / Dental Implantology
Protetika / Prothetic dentistry
Bolesti zuba / Dental disease
Bolesti usta / Oral diesase
Ortopedija vilice / Orthodontics
Dečija stomatologija / Children's dentistry
Hitne intervencije/
Emergency
24h / 064/1108-327